Hot New Turkey Gear for 2019
With youth turkey hunts underway, turkey season in NC has officially commenced- hope you are as excited as we are! The beginning of turkey season signals the end of those short days and cold nights. It means that we have warmer days on the horizon, and an abundance of outdoor adventures to come. 
For many hunters, there is nothing that can come close to rivaling the adrenaline rush that comes with calling in a big 'ol tom or sliding up on one without being noticed. Neither is an easy task,making a successful end result all the more rewarding. However, hunters being a resourceful bunch, new gear is coming out each year to help increase our odds of a successful hunt. Here we take a look at our favorite new turkey gear for the 2019 hunting season!
Favorite Decoy: Avian-X LCD Hen Series
The LCD Lookout Hen has a similar look and effect as the popular Breeder Hen, but she's got a little something extra. The Lookout's raised height aids visibility so passing gobblers can spot her even in tall grass and dense vegetation.

The LCD Feeder Hen draws gobblers in close to set up the perfect kill shot. Typically, a hen will notice a gobbler's advances and approach, signaling she's ready to breed. So if a longbeard's gobbles go ignored, he'll assume she didn't hear or see him – and he'll move closer to make sure she does.

The LCD Breeder Hen plays up gobbler's top priority every spring: finding a mate. This lady is the ultimate temptation, displaying she's ready to breed. High-quality feather detail and intricate paint schemes complement this inviting pose to bring the gobblers to the hen house.
The LCD Laydown Hen's body, wings and head simulate a hen turkey's authentic breeding position. It's a compelling invitation, and one that's been the demise of many a boss gobbler. She pairs perfectly with the LCD Quarter-Strut Jake to create a scene that a boss gobbler just won't tolerate. This pose can also double-down as a highly realistic dusting hen during mid-morning setups. The Laydown Hen does it all – and then some!
Favorite Mouth Call: Dead End Game Calls (Tyler Presley or Mitchell Johnston Series)
The Tyler Presley signature mouth call is designed by its namesake, National and World Champion caller Tyler Presley. This call is a 3 1/2 reed call that has incredible power. Great for excited yelping, cutting and fly downs. This is a call that you can put a lot of air behind if you would like. This very call won the 2018 Tar Heel Open, so it must be pretty good. We love carrying Dead End Game Calls, as they were designed and tested right here in NC, and they clean up at all of the calling competitions throughout the country
Mitchell Johnson, DEGC owner, 4 x National Champion and World Champion caller, designed and built this 3 reed mouth call to be the best call on the market. This call will produce a high front end but end with a raspy back end. Easy to run and requires very little air. Great all around call that is capable of producing the entire turkey vocabulary. This is your chance to use the same mouth call as an NC legend. Mitchell Johnston has been dominating the turkey calling competition circuit for years and has killed more turkey than you and I could ever dream of.
Favorite Turkey Vest: Ol' Tom Time & Motion I-Beam 2.0 Vest
For the hunter that wants all the bells but can do with a little less whistle. At first glance, this vest looks minuscule compared to the Time & Motion™ I-Beam 1.0 Turkey Vest. However, with 10 custom call pockets and over 20 other pockets, the Time & Motion™ Strap Turkey Vest carries more gear than most full vests on the market. Comfort features include the signature Spine Pad for comfort while leaning against a tree and a Magnattach™ padded rear seat cushion - the quietest, easiest, and fastest seat cushion on the market.
When you try this vest on, you will quickly realize that a lot of thought went into its design. The intuitive placement of pockets for all of your gear comes in handy when you are locked in on that gobble that keeps getting louder and louder as the minutes pass; the last thing you want to do is turn your attention to your pockets.
 Favorite Boots: Muck Pursuit Snake Boots - Realtree APG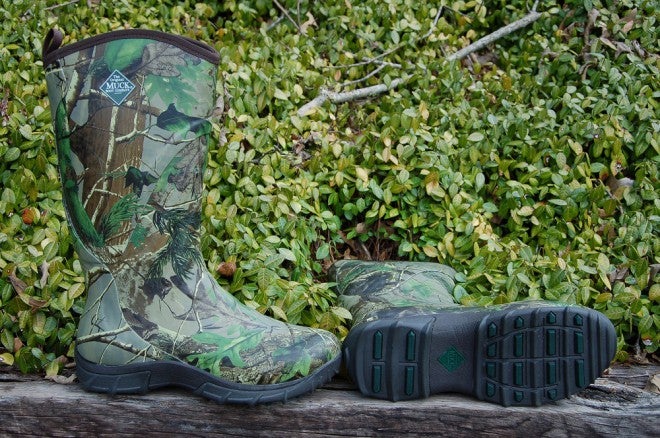 One of the most popular warm weather hunting boots you will find, the Pursuit Snake Boots from Muck have much of the same technology that your favorite workout shirts have. These boots aim to minimize uncomfortable sweating with moisture wicking technology throughout the liner. The full rubber outer layer lets you know that there won't be any water coming into those boots unless you go stepping in some deep water, and at that point, that's on you. However, we can't always be sure that we won't get a rogue snake bite, which is where these boots really shine.
For protection against rattlesnake strikes, the tough exterior of the Much Pursuit Snake Boots is layered with a durable full rubber coating along with 4mm of neoprene while exclusive XpressCool fabric lining keeps a hunter's feet cool and comfortable in warmer weather. The end result is a briar resistant durable boot, that's cool enough to confidently hunt in warm regions of the country where snakes often pose a threat.
Favorite Shooting Accessory: Primos Trigger Stick Gen 3 Short Monopod
Like every Trigger Stick, the new Primos Trigger Stick Gen 3 adjusts to your desired height with just one hand and the pull of a trigger. The new Quick Detach Yoke System with Integrated Lock makes it easier than ever to switch from gun to optics and back again. Smoother panning action helps you rotate, scan and find your perfect shot effortlessly. It's the next level of Trigger Stick to give you the next level of confidence in every shot in all terrain – standing, sitting, or kneeling!
This really is the perfect hunting accessory when hunting from the ground. The shorter shooting stick is easy to pack and gets the job done when you need a steadying presence out in the field. Additionally, the shorter size is ideal when crouched/sitting on a turkey hunt, and the trigger system makes it easy to adjust the height in the heat of the moment.
Favorite Ammo: Federal Heavyweight TSS
Kill gobblers at longer distances than ever before with HEAVYWEIGHT® TSS. Its payloads of HEAVYWEIGHT Tungsten Super Shot provide the highest pellet counts possible. The tungsten-alloy material's 18 gm/cc density is 22 percent higher than standard tungsten and 56 percent more than lead. The result is the most energy and highest velocities at extreme range. Its rear-braking FLITECONTROL FLEX® wad performs flawlessly through ported and standard turkey chokes for the most consistent, deadly patterns possible.
We have had trouble keeping this ammo in stock, given its popularity with turkey hunters. This may be the single most popular turkey load we have ever seen! People who come by our stores rave about its ability to reach out and knock down a gobbler at distance, when most loads would simply fail to get the job done consistently. The density of the pellets make all the difference, creating the tightest patterns with the highest velocity down range that you will find these days. Perhaps more importantly, we have seen impressive pattern results across a wide variety of gun and choke combinations, meaning more people are getting more pellets on target.